How to Connect to UO Evolution Shard
If you want complete details on how to connect read the "How to connect" section of the wiki
UO Evolution – How to Connect Guide
Here is a short video that can help you connect to the shard:
If you have experience with other Ultima Online shards and patching you can follow the quick steps below and get right in the game.
In order to connect to our shard, you must first have a couple of programs installed, along with the .net framework.
UOE Custom Client+Patch Auto Installer
Auto-Installer Custom Patch
Manually Install Custom Patch
Custom Patch Mirror
** Once downloaded please be sure to extract it using WinRar or any suitable archiving software. The usual extraction directory is:
"C:\Games\UOEvolution Custom Client\"
However, you may extract the patch/client anywhere on your hard drive as long as you point your assistuo (or Razor) client to the correct location. (play.uoevolution.com and port 2593)
Recommended Client Download: (Download and install the Redistributable first)
1. Visual C++ Redistributable
2. UO Steam or Razor
www.uosteam.com
www.uorazor.com
www.assistuo.com
Once you have downloaded and extracted our client you will then need to Run UOSteam, UO Razor or AssistUO and make sure that your "Client Options" and your "Ultima Online" Directories are pointed to the right locations.
Example: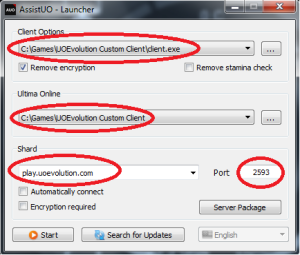 You can see that our UO Evolution Custom Client folder is located in the C:\Games folder on our hard drive. Make sure that you change this according to where you extract the client.
Once you have finished configuring AssistUO you can simply click the "Start" button located at the bottom of the client and create your account/login.
If you have any issues with the setup process of our custom client please feel free to come into our Teamspeak channel, our staff team would be happy to assist you in getting everything configured.
See you in game!