UO Evolution Shard event screenshots!

UO Evolution Events!>>>Daily Events<<<*Triple Champ Spawn – Random Times*2 Town Invasions Daily – Random Times*2 Non-PVP Champion Spawns daily*Random Power Hours Daily*Fishing Tournament every other day at noon*Public PVP Champ Event 6pm Daily*New Player Event – Random Daily*Daily Royal Hunts*Daily Hide and Seek Events*Grand Auction 3rd Sunday of each month at noon cst*Watch for staff events announced in-game dailyUO Evolution May Calendar of EventsMay 01 – May 02 – Fishing TournamentMay 03 – Champ Spawn Marathon every Friday 7pmMay 04 – All Champion Spawns will be activated at the same time 7pm, Fishing TournamentMay 05 – May 06 – Fishing TournamentMay 07 – Easter Egg Hunt Quest begins! Easter Deco Contest begins!May 08 – Fishing TournamentMay 09 -May 10 – Mother's Day Weekend! – Champ Spawn Marathon every Friday 7pm, Fishing TournamentMay 11 – Mother's Day Weekend! – All Champion Spawns will be activated at the same time 7pmMay 12 – Mother's Day Events, Fishing TournamentMay 13 – All Champion Spawns will be activated at the same time 7pmMay 14 – Fishing TournamentMay 15 – May 16 – Fishing Tournament May 17 – Champ Spawn Marathon every Friday 7pmMay 18 – All Champion Spawns will be activated at the same time 7pm, Fishing Tournament May 19 – Grand AuctionMay 20 – Fishing TournamentMay 21 – May 22 – Fishing Tournament May 23 – May 24 – Memorial Day Weekend! – Champ Spawn Marathon every Friday 7pm, Fishing Tournament May 25 – Memorial Day Weekend! – All Champion Spawns will be activated at the same time 7pmMay 26 – Memorial Day Weekend! – Fishing TournamentMay 27 – Memorial Day EventsMay 28 – Fishing Tournament May 29 – May 30 – Fishing Tournament May 31 – Champ Spawn Marathon every Friday 7pm

Posted by UO Evolution – Ultima Online Free Shard on Tuesday, April 30, 2019
"Welcome to UO Evolution, celebrating 8 years online!
UO Evolution Ultima Online Free Server
#1 Custom RunUO Shard Emulator! Log in and play for FREE!
UO Evolution is hosting our Grand Auction Sunday June 16th at noon cst!

"The Game Has Evolved!" and is "Better than the Original!"
UO Evolution is the best custom Ultima Online, RunUO emulator, free shard and is ranked #1 by the community in the UO custom freeshard category! We are also top rated on 30 Ultima Online top lists
UO Evolution is a unique shard that develops it's own exclusive PVM and PVE content, along with including the best aspects of the original AOS, SE, ML and SA expansions. The shard has been online over 8 years, 10,000+ accounts and an average of 750+ players online, peaking around 1000+ during prime time events
Live events and in-game events are a key feature of UO Evolution which makes it vastly different from any other Free Shard. There are different types of events, which are run over several days or at specific times. Events vary in difficulty and are a great place to meet up with your shard community.
UOE is hosted on an ultrafast new Enterprise Level, dedicated private server. Our ping times are the fastest in the top 10 freeshard lists!
You can also view our online stats here
If you enjoy a challenging PVM environment, custom PVP, strong community reviews and active staff/developers then this is the UO shard for you!
———-UO LOGIN INFO———-
IP: play.uoevolution.com
Port: 2593
Having trouble connecting? Try following the simple steps listed on our How to Connect Page
NOTE to new players
Please make sure you take the time to download our custom client/patch Manual-Custom Patch – Without it you won't be able to see our custom graphics package!
———-UO SHARD HIGHLIGHTS———-
UOE developers have added new content every Friday for the past 8 years, there is always something to explore!
3 houses per account. Custom Housing options, own a house on a mountain top, house on the water or a house in the stars of Malas!
5 player characters per account. Only one character is needed due to the unlimited skill cap, but role playing the other characters is encouraged.
300 Stat Cap, 350 Stat Cap with stat cap increase deeds that you receive from champions and events.
No Skill Cap (Max ALL skills on all characters)
Original OSI Maps, All Facets and Dungeons Fully Spawned including Tokuno, Ter Mur, Underworld and Stygian Abyss
Exclusive Tokuno Content – Custom Black Belt System and Tokuno Expansion content was added
Unique Artwork, Graphics, buildings, GUI, and Mobiles not seen on any other shard…over 100 custom castles, cathedrals, buildings and dungeons to explore!
New Graphics/Monsters/Items, Several Facets are completely custom with new adventures and hundreds of quests
Customized Areas including Auction House, Vendor Mall, Library, Training Area, Quest Hall and Artifact Museum
Hundreds of original and custom Ultima Online quests!
New UO Crafting Systems exclusive to UO Evolution Shard
Enhanced Crafting systems including Runic Crafting, Enhancing, Sockets/Augments, Item Leveling, Contracts, Custom BODs
Custom Champion Spawns including Pirate Champ, Bio Champ, Mithril Dragon, Empirial Dragon and Crafter Spawns
–Dozens of New Resources–
UOE Custom Crafting System
*5 Ore Types
*7 Log Types
*7 Leather Types
*Magic Cloth
*Contract System
*Craftable Levelable Weapons
*Craftable Furniture [Elven & Gargoyle]
*Craftable Deco Items
———-UO CUSTOM SYSTEMS———-
*Custom Animal Taming, with new custom pets
*Unique Animal Breeding, with trait system
*Evolution Dragons
*Bioengineering pets/mounts
*Custom 3-plot housing, water houses, mountain houses
*Golem Crafting System
*Socket/Augment System
*Tomb Raider System
*Archaeology
*Custom Treasure Maps and chests
*Gold Ledger, Token Ledger, Loot Bags
*Puzzle Box "Mastermind"
*Wine Crafting
*Wood Crafting
*Rug Crafting
*Wax Crafting
*Aquarium Crafting
*Player Vendor system
*Monster Contracts
*Contract System
*BOD Expansions and Rewards
*Task System
*Market/Trade System
*Event System
*Weapon and Item Leveling
*Tokuno Expansion and Blackbelt System
———-Daily UO Staff Hosted Events———-
UO Evolution Event Forum
Helpful Friendly UO Community
Experienced, Mature and Dedicated Staff
WIKI with all the custom shard information
Role Playing Encouraged (Good vs Evil)
Players are encouraged to run events
Themed events on every holiday, with gift bags
Challenging Gameplay from novice to expert
Monthly Auctions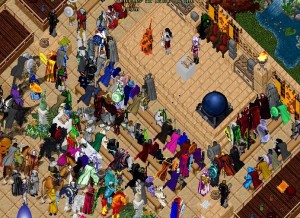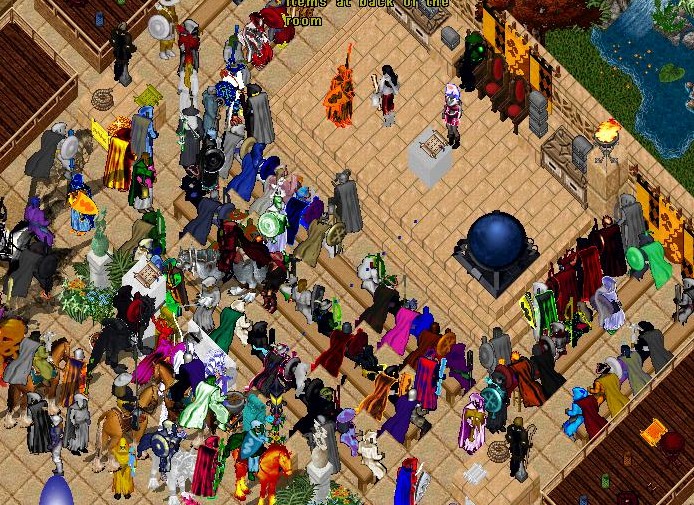 Looking for more information? We are always coming out with new and exciting content and shard updates, visit our forums for more information!
You can "like" us on Facebook for current information and events
You can follow our Development team, UO Evolution adds new content every Friday and posts the updates on our Developer Logs 2019 on the Wiki

UO Evolution [DEDICATED SERVER] Ultima Online Freeshard
Logon server: play.uoevolution.com Port 2593

UO Evolution [ML/SE/SA] USA shard with the most custom content anywhere! No skill caps, 350 Stat Cap, Fast gains, New Champs, Hundreds of custom monsters/Items, 150+Quests, Custom crafting, New Spell system, Animal Breeding, Bioengineering, Evolution Dragons, Experienced Staff, Friendly Community, All Facets fully spawned with OSI and custom content including Ter Mur, Underworld, and Stygian Abyss

UO Evolution Server – Online
Votes: 19121

Current players: 710
Average players: 656
Maximum players: 1015

Current response time: 31ms
Avg response time: 51ms
Uptime: 98.98%
Page Views 921,408
Staff Online – 3

Ranked #1 Custom Free Shard
921,408 Views Since December 2010-2019